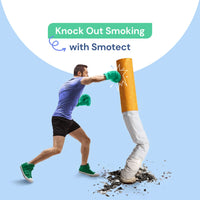 Quit Smoking &
Repair Damage
Scientifically Proven Natural Tablets
Nicotine free | FDA Approved | 100% Safe
Smotect Natural Tablets to Quit Smoking
• Nicotine-free & zero side-effects
• Clinically proven for safety and efficacy 
• Derived from 12 therapeutic herbs
• FDA approved, GMP certified & Patented formulation 
• Results may vary from person to person 


Benefits :
• Reduces craving for nicotine
• Protects and restores vital organs 
• Helps to quit smoking 
Light Smokers (upto 4 cigarettes/day)
➤ 4 Weeks Course - 112 Tablets

Moderate Smokers (upto 10 cigarettes/day)
➤ 8 Weeks Course - 224 Tablets

Heavy Smokers (above 10 cigarettes/day)
➤ 12 Weeks Course - 336 Tablets

Dosage -
• Consume 2+2 tablets (total of 4) with water daily at any time of the day or as directed by the physician.
Smotect Natural Tablets :
• 4 weeks course - 112 tablets (1 bottle)
• 8 weeks course - 224 tablets (2 bottles)
• 12 weeks course - 336 tablets (3 bottles)

Add Ons:
• Guided Sessions Access
• Unlimited Whatsapp Support
• Pregnant or lactating women & children below age of 16 are not recommended to consume these tablets.
Scientifically proven, Smotect Natural Tablets are a unique formulation of 12 therapeutic herbs. It prepares your body & mind to quit smoking by reducing your dependence on nicotine. It protects and restores vital organs like lungs, heart, brain & skin from the impact of years of smoking.
20,000+ Success Stories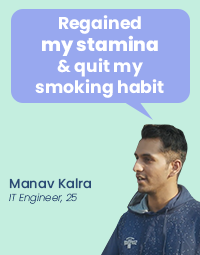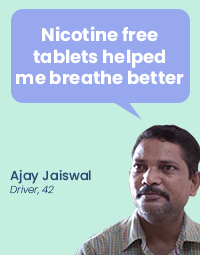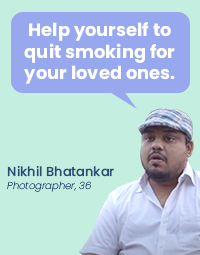 For best results : Compliance to the suggested dosage is strongly recommended. Results may vary from person to person.
1. Improves energy and stamina
2. Enhances mood and freshness
3. Manages stress and withdrawals
4. Improves breathing quality
5. Restores lung function
6. Relieves smokers cough
7. Improves digestion & immunity
8. Improves sleep & skin quality
9. Reduce CO/COHb levels
10. Clears nicotine & other toxins
11. Revive vital organs
12. Reduce significantly/Quit smoking
It's a two-arm, double-blind, randomized, prospective, multicentric, placebo-controlled clinical study to evaluate efficacy and safety of Smotect Natural Tablets (A Nicotine Free Composition of Therapeutic Herbs for Smoking
De-Addiction and Treatment of other Effects Related to Smoking) in Smokers.
Clinical Trails
Increases your chance of quitting smoking by 10 times

A step-by-step video series made by quit smoking experts based on MBCT (Mindfulness-Based Cognitive Therapy) approach to plan and complete your quitting journey.
Get Started
Provides tools and techniques to manage cravings and withdrawals.
Equips you to deal with slips and relapses effectively.
Reinforces awareness of your psychological triggers and smoking patterns.
Dopaminergic Action
Smotect Natural Tablets facilitate the body to produce its own dopamine which the body loses due to its nicotine dependency. Since the original dopamine system is restored, via our natural tablets the dependency on nicotine vains off through its ingredients like Kapikacchu and Ashwagandha. This naturally released dopamine also acts to provide sustained elevation of mood, increased energy levels and stamina.
Systemic Effect on Respiratory Tract & Vital Organs
Smotect Natural Tablets protect vital organs via antioxidant activity through Haridra, Amla that exerts free radical scavenging action and prevents organ damage due to smoking. It's bronchodilator action of herbs like Vasa, Tulsi help to improve lung functions by improving dilation of the tiny air sacs (alveoli) and thus enhancing the uptake of oxygen and removal of carbon dioxide. 
Anti-Stress Activity
Ingredients like Ashwagandha, Brahmi possess excellent anti-stress and Adaptogenic activity that helps reduce anxiety levels, irritation and helps to calm your nerves and thus reduces the urge to smoke & consecutively helps to quit smoking. Antidepressant activity helps to fight depression in Smokers.
Improves Cognitive Function (Neuroprotective effect)
Smotect natural tablet's ingredient like Brahmi help to improve overall cognition & have beneficial effects to improve concentration, retention, and memory that diminishes due to smoking. It's Neuroprotective action protects nerves from damage due to chemicals involved in smoking tobacco.
International Quality Standards
Smotect's Goal is to maintain consistent and standard quality products from one production to another.
With zero variations and 100% quality.  

Our Warehouse
Smotect Natural Tablets are manufactured in a state of the art Good Manufacturing Practices-Certified plant approved by the FDA-Maharashtra as an Ayurvedic Product.



Scientific approach towards making
Smotect Natural Tablets has been formulated after rigorous research by a team of Scientists including Medical/Ayurveda Doctors, Botanists, Pharma Experts, and are extensively tested for safe and effective consumption. 
Hand-picked Herbs, for you
Each Herbal ingredient is carefully selected from the natural source of origin and is subjected to quality checks to ensure, it meets the Pharmacopeia standards of quality, safety, and efficacy. 



Clinically Tested for Efficacy & Safety
Gold standards on Smotect Natural Tablets have proven its efficacy and safety over short and long-term use for quitting smoking, Lung function improvement, Stress relieving, and Enhancement of quality of life.
Zero Variations
All Herbal Extracts used in Smotect Natural Tablets are Standardized Herbal Extracts i.e. Contains the specified bio-active compound in the desired concentration. This ensures batch-to-batch consistency.



100% Quality
In-Process-Quality-Control (IPQC) checks are applied to ensure the desired outcome in the finished product. The Final Product is also tested on international standards on quality including heavy metals, pesticides, microbial tests, etc. 
Doctors' Review on Smotect